World
Reach Out To Your World
The Nyadire Connection (TNC)
is an organization of volunteers who support a partnership with the people of Nyadire, Zimbabwe through challenging times. For more information regarding projects, programs, events, or to join a volunteer in mission team, please visit our website.
www.nyadire.org

Want to get connected?
The Baldwin Community Outreach Team would like to introduce The Hearing Impaired Student Education Sponsorship Program, a new project of The Nyadire Connection (TNC).
The opportunity to receive an education gives students an identity and voice, teaches self-reliance, provides meaningful purpose, and most importantly encourages friendship, value, and goals.
If you feel a calling or passion to support a Zimbabwean student's education, maintain a pen-pal relationship, and positively influence a child's future, become a sponsor!
Sponsorship Form

Bread for the World is a collective Christian voice urging our nation's decisions makers to end hunger at home and abroad. Moved by God's grace in Jesus Christ, we advocate for a world without hunger.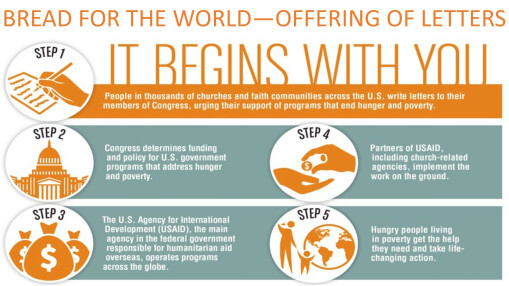 Baldwin Community asks its members to write letters to their congressional leaders to support Bread for the World.
Find out more about Bread for the World here - http://www.bread.org/history-mission