Announcements - April 9, 2021

This weekend, we will be welcoming Dr. Steven Tuell as our guest preacher (via video) to our service. An ordained elder in The United Methodist Church, Dr. Tuell has served churches in Pennsylvania, New Jersey, West Virginia, and Virginia. He is a member in full connection of The Western Pennsylvania Conference of The United Methodist Church and preaches and teaches frequently throughout the area.
Join us at the 10:00 a.m. Sunday service in the sanctuary or online. If you are planning to attend in person, there is no need to R.S.V.P. for worship at this time. When you arrive, health and wellness volunteers will be greeting you at the door. Be sure to wear your mask. A live stream will continue to be provided. Let's praise God for all the ways we have been sustained by God's hand in the past year!
We are still in need of volunteers to sustain our in-person and online presence:
Health and wellness team: Take temperatures at the doors and ask people to wear face masks
Ushers: Be available to offer hospitality and help as needed
Tech team: Learn to use equipment to help with in-person multi-media worship and the online live stream of worship
Online worship hosts: Offer hospitality by engaging people in the Facebook or YouTube chat
Musicians: We welcome handbell ringers for the handbell choir and vocalists or instrumentalists for the contemporary worship band to help bring music to worship
Both Children and Adult Sunday School return to being in-person on Sunday, April 11th at 8:30 a.m.
The adults will be starting a new series: "Roots of Methodism". John Wesley, the founder of Methodism, was a great religious innovator. But his ideas didn't come from nowhere. In this study, we will trace a path through the history of the Christian church, highlighting those key figures and ideas that influenced the theology of John Wesley and Methodism—from the earliest Christian Fathers to the Moravians and beyond. There will be still be an online option as well.
Registration for Sunday School is available by contacting Justin Pearl at .

Join Pastor Pam on Wednesday afternoons at noon via Facebook Live for Back Porch Prayer. This series will run for 5 weeks, from April 14th until May 12th.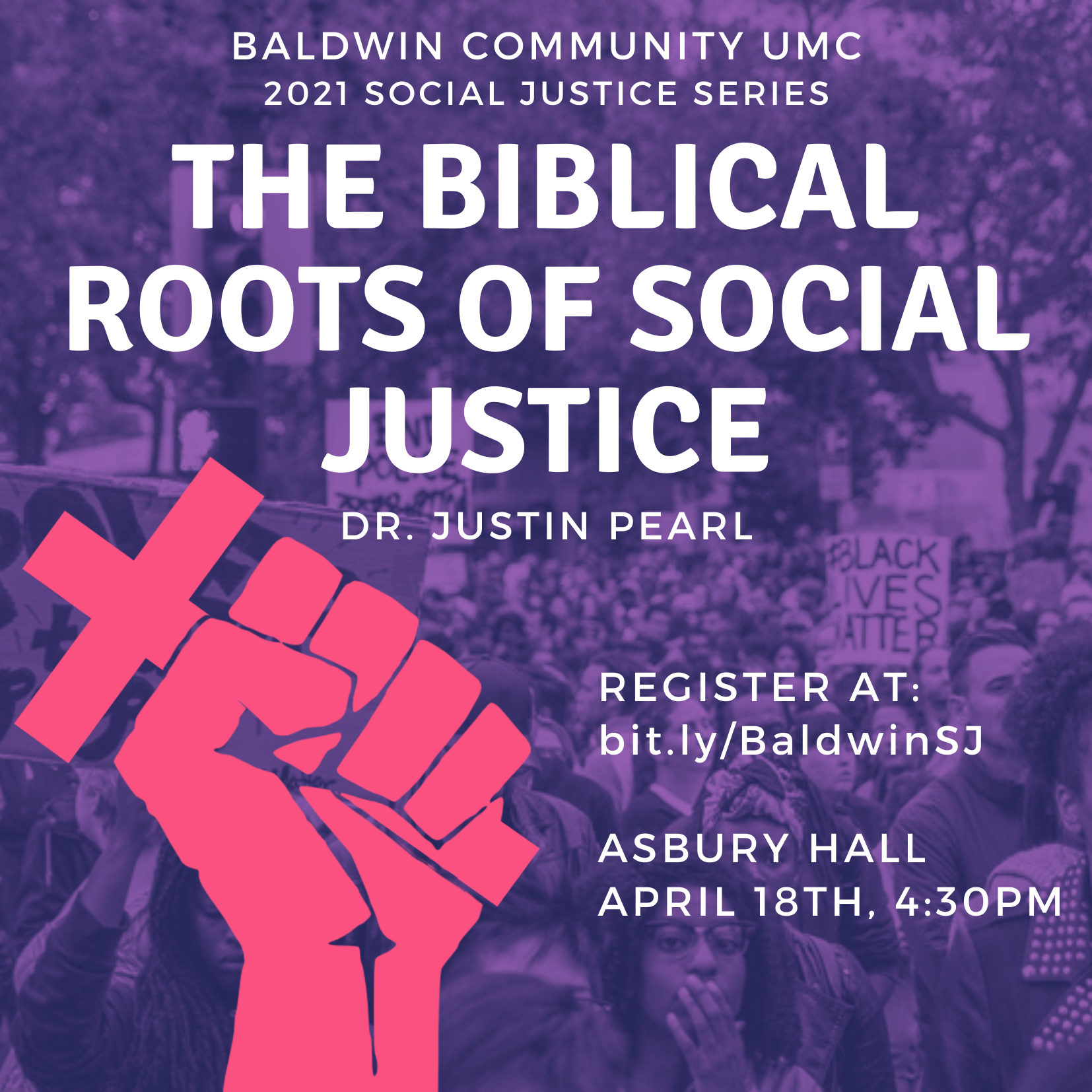 The first meeting of the Social Justice Committee will be on Thursday, April 22nd at 7:00 p.m. in Wesley Hall. In celebration of this newly established committee, we will hosting three discipleship events on the Biblical roots, history, and continuing importance of social justice for the Christian church.

04/18, 4:30pm — The Biblical Roots of Social Justice (with Dr. Justin Pearl), both online and in-person
05/02, 4:30pm — Movie Screening: "Romero" (1989), directed by John Duigan and starring Raul Julia, both online and in-person
05/16, 4:30pm — Is Social Justice a Christian Concern? (with Dr. Luther E. Smith, Emory University), online only.
Register for any or all of the 3 events at bit.ly/BaldwinSJ
Dream Big! The Conference Young Adult Council will host a 5-week Zoom study on Bob Goff's book Dream Big: Know What You Want, Why You Want It, and What You're Going to Do About It. The study will be on Tuesday evenings at 7 p.m. beginning April 13th. The first five participants will get a free copy of the book! Join the group on a journey to rediscover your dreams and turn them into reality!" Click here to register. If you have any question please feel free to reach out to Kayla DeCristoforo at .
THIS WEEK AT BCUMC:
Saturday, April 10th:
9:00 a.m. : West PARR Meeting (Asbury)
12:00 p.m. : A.A. Meeting (Asbury)
Sunday, April 11th:
8:30 a.m. : Children's Sunday School (Asbury)
8:30 a.m. : Adult Sunday School (Wesley)
10:00 a.m. : Worship (In-person and Live streaming)
11:00 a.m. : Discipleship Committee Meeting (Wesley)
6:00 p.m. : Youth Group (Asbury)
8:00 p.m. : Al Anon (Wesley)
Tuesday, April 13th:
9:30 a.m. : Tuesday Prayer Group (Wesley)
7:00 p.m. : Trustees Meeting (Asbury)
7:30 p.m. : G.A. Meeting (Wesley)
Wednesday, April 14th:
12:00 p.m. Back Porch Prayer (Facebook Live)
7:00 p.m. Devoted Disciples (Off-site)
Friday, April 16th:
7:00pm : A.A. Meeting (Asbury)
Our next worship series will be...