Announcements - April 1, 2021
Happy Easter to our Baldwin Community UMC family!

Items in your Lent to Go bag were designed to lead you through Lent and to our Good Friday outdoor event from 5:00 - 7:00 p.m. on Friday, April 2nd. There will be different stations set up to help you fully immerse yourself: casting what has been holding you back into the fire, bringing your filled box for donation, sharing your Lenten word, and much more. Don't worry if the season has been overwhelming for you. Even if you haven't participated in all the aspects of Lent, you are still welcome to come and reflect on the passion.
This Saturday, April 3rd, Lenten Hiking Club will be meeting for their fourth and final hike at 8:30 a.m. at Frick Park. Email Justin at to receive a map and directions for parking.
On Sunday, April 4th, Easter Sunday, there will be two service options:

At 8:00 a.m., you are invited to gather in the quiet stillness of Easter morning for a short service of prayer and praise in response to the joy of Easter. This will be in the church circle. Bring a lawn chair for seating. You are invited to bring an artificial flower to place on the cross as an act of resilient praise - death is overcome!

At 10:00 a.m., we will have our traditional indoor worship in the sanctuary. State guidelines will permit 100 people to gather, and an overflow space with a live stream of worship will be available, if needed. Doors will open at 9:30am, and health volunteers will take names, phone numbers, and temperatures. Masks and social distance will be important for every person's safety. Sanctuary windows will be open for ventilation. The live stream of worship online will continue to be provided.

We look forward to more people having access to Sunday worship. Let's praise God for all the ways we have been sustained by God's hand in the past year!

Whether you are a master gamer or someone who has barely touched a video game, this online Easter Egg Hunt is for you! Explore a fun world, built by Baldwin Community's own youth group, and see if you can be the first to find all 20 Easter Eggs! The game begins Monday, April 5th at5:00 p.m. Be the first to find the eggs and claim a delicious prize. Register at bit.ly/BaldwinEggHunt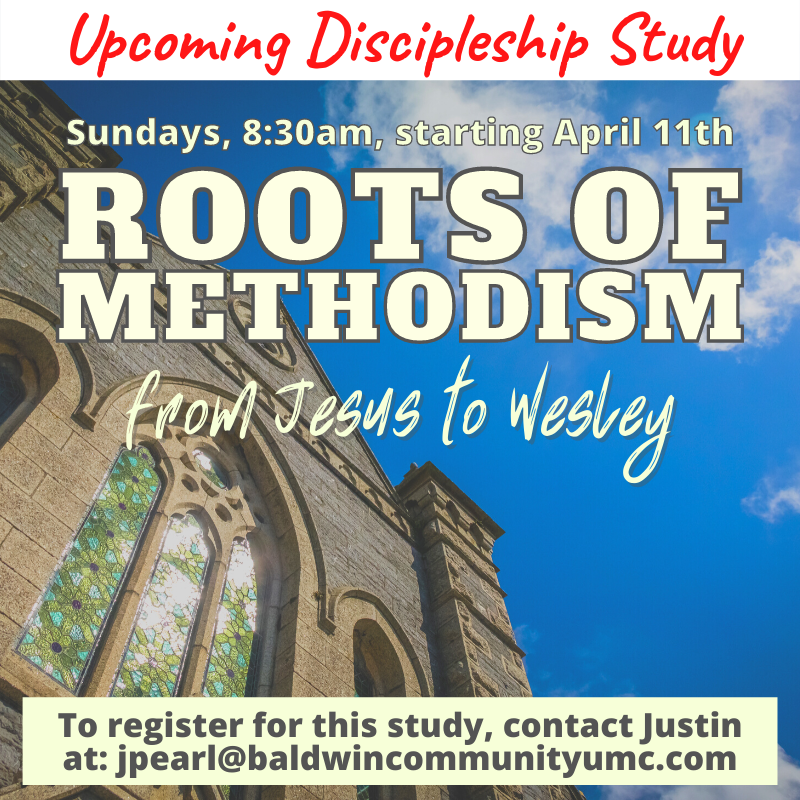 John Wesley, the founder of Methodism, was a great religious innovator. But his ideas didn't come from nowhere. In this study, we will trace a path through the history of the Christian church, highlighting those key figures and ideas that influenced the theology of John Wesley and Methodism—from the earliest Christian Fathers to the Moravians and beyond.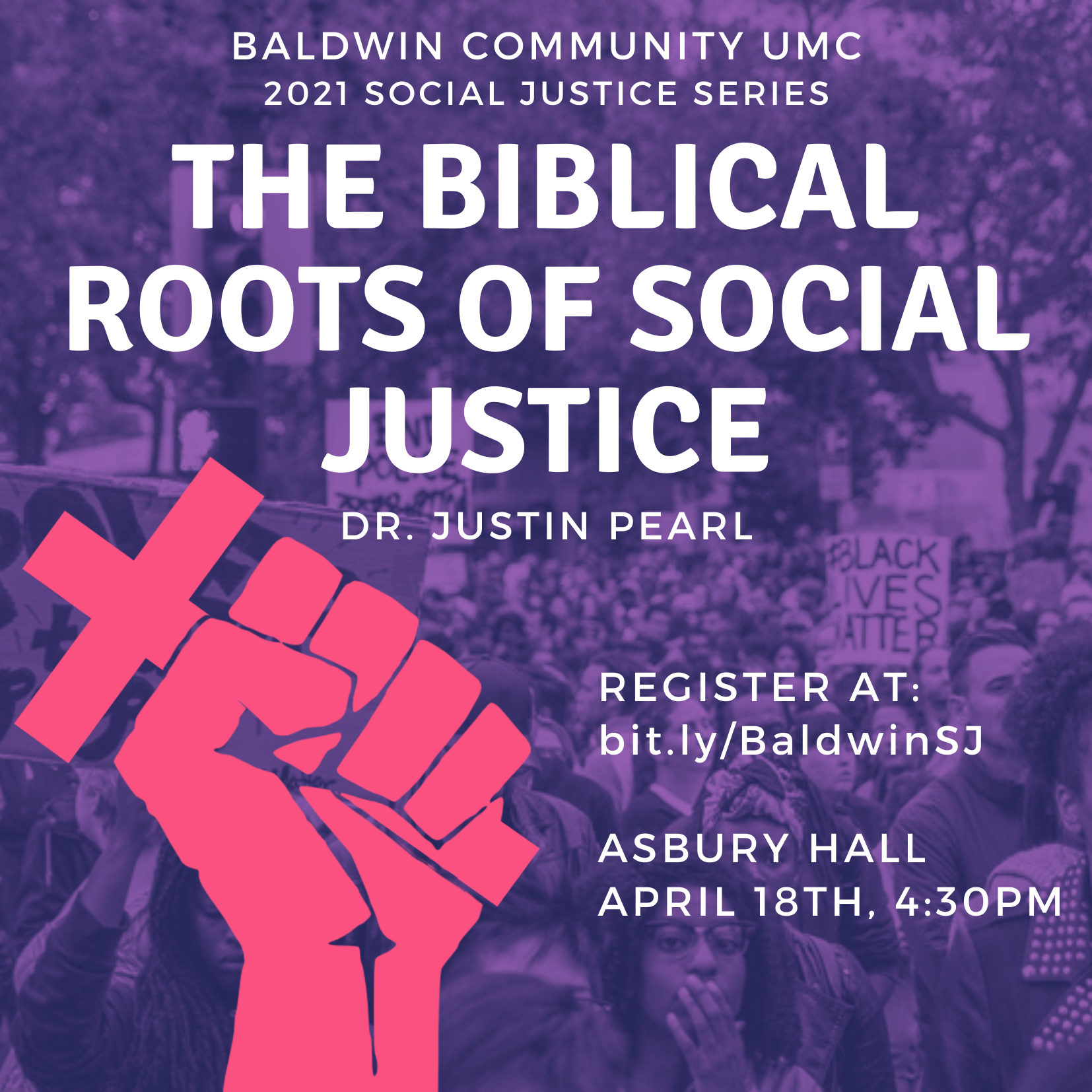 In celebration of our newly established Social Justice Team, Baldwin Community UMC is hosting three discipleship events on the Biblical roots, history, and continuing importance of social justice for the Christian church.
4/18, 4:30 p.m. — The Biblical Roots of Social Justice (with Dr. Justin Pearl)
5/02, 4:30 p.m. — Movie Screening: "Romero" (1989), dir. John Duigan and starring Raul Julia
5/16, 4:30 p.m. — What does Social Justice have to do with us? (with Dr. Luther E. Smith, Emory University), online event
THIS WEEK:
Friday, April 2nd: (office closed)
5:00 p.m. - 7:00 p.m. - Good Friday Experience (Circle)
7:00 p.m. - A.A. Meeting (Asbury)
Saturday, April 3rd:
8:30 a.m. - Hiking Club (Frick Park)
12:00 p.m. - A.A. Meeting (Asbury)
Sunday, April 4th:
8:00 a.m. - Sunrise Service (Circle)
10:00 a.m. - Worship (Sanctuary, Online)
8:00 p.m. - Al Anon (Wesley)
Monday, April 5th: (office closed)
Tuesday, April 6th:
7:00 p.m. - SPRC Meeting (Asbury)
7:30 p.m. - G.A. Meeting (Wesley)
Wednesday, April 7th:
10:00 a.m. - Abigail Circle (Wesley)
7:30 p.m. - Scouts (Asbury)
Thursday, April 8th:
7:00 p.m. - Outreach Meeting (Asbury)