Adult Discipleship

more information:
Adult Sunday School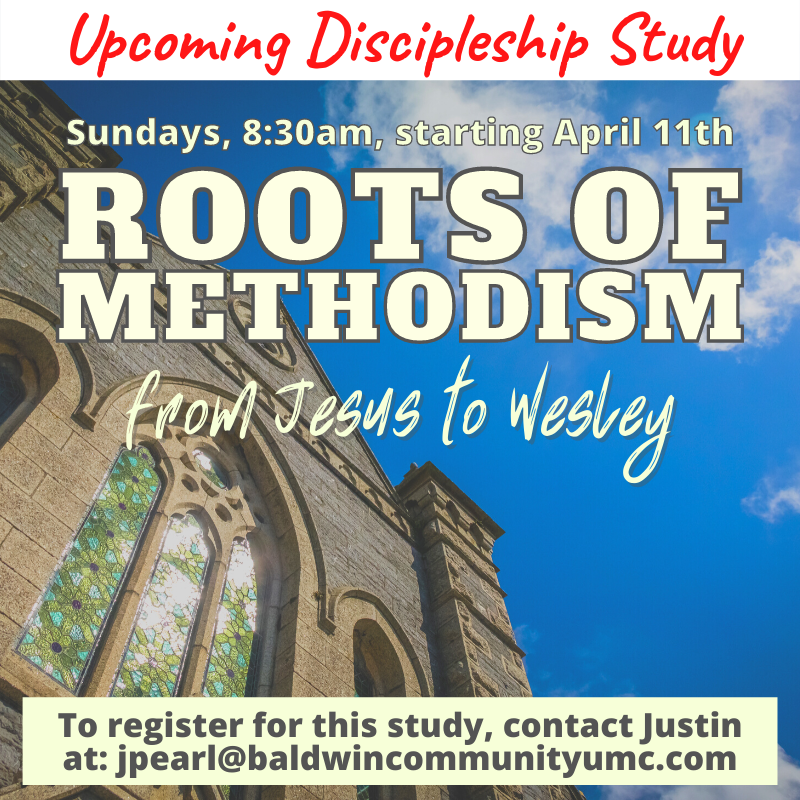 John Wesley, the founder of Methodism, was a great religious innovator. But his ideas didn't come from nowhere. In this study, we will trace a path through the history of the Christian church, highlighting those key figures and ideas that influenced the theology of John Wesley and Methodism—from the earliest Christian Fathers to the Moravians and beyond.
Sundays 8:30 am-9:30 pm — Hybrid: In-Person Wesley Hall and Online
Contact:
Growing Together with God

Looking for an opportunity to grow closer to God, build relationships with members of the church and community, and learn together with others? You should join Baldwin Community's newest small group, Growing Together with God. This small group is starting up on May 3rd, will meet on the 1st and 3rd Monday of the month, 7:00-8:00pm, and is being led by Liz Pollock.
To register, email Liz at:
Devoted Disciples
2nd + 4th Wednesdays, 7:00pm, Online
Contact: Steven King,
Tuesday Morning Prayer Group
2nd and 4th Tuesdays, 9:30am
Wesley Hall
Contact: Becky Rohland,
Men's Group
Every other Tuesday, 7:00pm
Contact: Mike Daly,